ENDOR™ Gentle Wash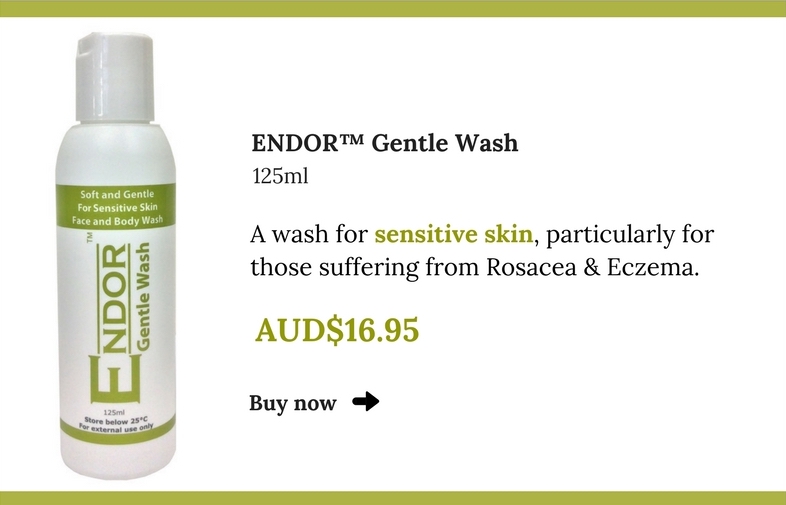 ENDOR™ Gentle Wash is designed for sensitive skin. Suitable for all skin types; particularly those suffering from rosacea and eczema. Leaves the skin soothed, soft and cleansed. To be used in conjunction with ENDOR™ products for managing your skin condition.
ENDOR™ Gentle Wash:
Soft and Gentle
For sensitive skin
Face and Body wash
Eczema
Rosacea
For all the family

Place desired amount in the palm of your hand. Mix small amount of water to make foam and gently apply and massage to your face or other parts of the body as required. Rinse well.
In our blog you can find the list of FAQ about our ENDOR™ Gentle Wash. Please click here to read it.
When using ENDOR™ products, do not use any other medication, which might dampen your immune response, such as steroidal-based medications or other products, that have similar effects. ENDOR™ products work by providing the basic ingredients to your immune system, so that your body makes the active compound; that is the natural anti-inflammatory compound, to calm the over active immune response. If your immune response is being dampened, then your immune system will not be able to make this active compound and it will not work.

Aqua, Sodium Lauroyl Methyl Isettionate, Cocamidopropyl Betaine, Acetamide MEA, Methyl Gluceth-20, Acrylates / C10-30 Alkyl Acrylate Crosspolymer, Phenoxyethanol, Dehydroacetic Acid, Benzoic Acid, Sodium Hydroxide.
If you are using steroidal products either orally or topically, this will reduce the effectiveness of ENDOR™ products.
ENDOR™ products do not contain steroids, antibiotics, biologics, allergens or painkillers.
For more information, please feel free to contact us.