ENDOR™ Cream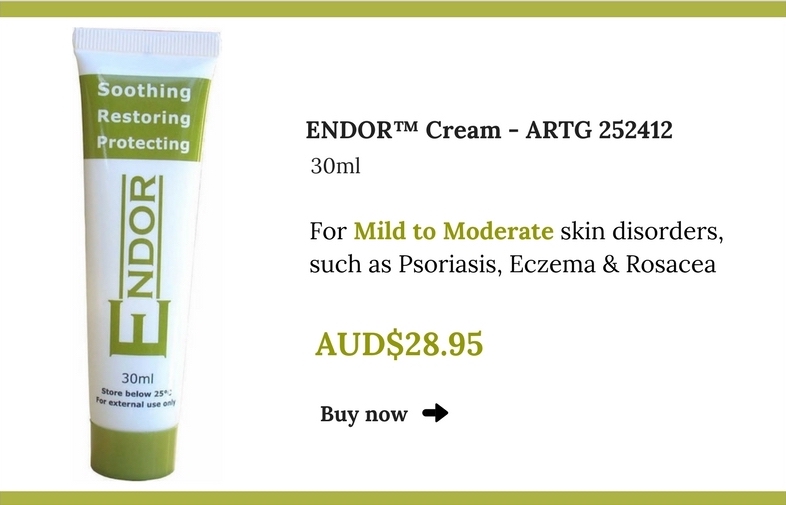 ENDOR™ Cream is an effective, steroid free restorative cream, that alleviates the symptoms of mild to moderate skin disorders, such as eczema, psoriasis, rosacea and atopic dermatitis. ENDOR™ Cream quickly stops itchy skin and calms irritated, inflamed skin.
ENDOR™ Cream is specially formulated to be safe for use on infants, children and elderly. It is gentle on the skin; it provides a protective barrier, allowing the natural healing processes to occur.
We recommend, that in the first instance you try ENDOR™ Cream for babies, children and elderly. ENDOR™ Cream should be strong enough to treat these patients. You may always contact us for more information.
In our blog you can find the list of FAQ about ENDOR™ Cream. Please click here to read it.
When using ENDOR™ products, do not use any other medication, which might dampen your immune response, such as steroidal-based medication or other products that have similar effects. ENDOR™ products work by providing the basic ingredients to your immune system so that your body makes the active compound; that is the natural anti-inflammatory compound, to calm the over active immune response. If your immune response is being dampened, then your immune system will not be able to make this active compound and it will not work.
You can apply ENDOR™ Cream all over your body including your face and scalp. It may also be applied on your ears and your eye lids, but do not get into the eye. To be applied on skin affected by eczema, psoriasis, atopic dermatitis and rosacea or small skin blemishes. You can also apply it on insect bites to reduce inflammation due to the bite. You should apply ENDOR™ Cream at least twice per day for best results.
For information regarding Best Results, please click here.

Aqua, Glycerin, Cetearyl Alcohol, Stearic Acid, Steareth 21, Dimethicone, Oleic Acid, Panthenol, Phenoxyethanol, Benzoic acid, Dehydroacetic acid, sodium citrate.
If you are using steroidal products either orally or topically, this will reduce the effectiveness of ENDOR™ products.
ENDOR™ products do not contain steroids, antibiotics, biologics, allergens or painkillers.
For more information, please feel free to contact us.