ENDOR™ 3.5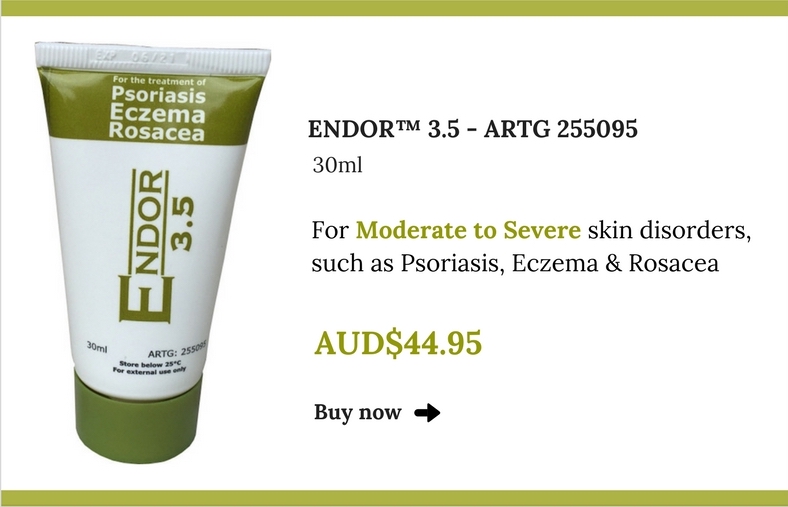 ENDOR™ 3.5 is for moderate to severe cases of psoriasis, eczema, rosacea. It also works effectively against insect bites and more severe cases of contact dermatitis. ENDOR™ 3.5 is 3.5 times stronger than ENDOR™ Cream and as such, it will sting a little more when applied to open cuts. There is nothing to worry about; this is due to acidity of the cream and a higher level of lemon to assist with absorption.
In our blog you can find the list of FAQ about ENDOR™ 3.5. Please click here to read it.
When using ENDOR™ products, do not use any other medication, which might dampen your immune response, such as steroidal-based medications or other products, that have similar effects. ENDOR™ products work by providing the basic ingredients to your immune system, so that your body makes the active compound; that is the natural anti-inflammatory compound, to calm the over active immune response. If your immune response is being dampened, then your immune system will not be able to make this active compound and it will not work.
For information regarding Best Results, please click here.

Aqua, Glycerin, Cetearyl Alcohol, Stearic Acid, Steareth 21, Dimethicone, Oleic Acid, Panthenol, Phenoxyethanol, Benzoic acid, Dehydroacetic acid, sodium citrate.
If you are using steroidal products either orally or topically, this will reduce the effectiveness of ENDOR™ products.
ENDOR™ products do not contain steroids, antibiotics, biologics, allergens or painkillers.
For more information, please feel free to contact us.