ENDOR™ Arthritis Gel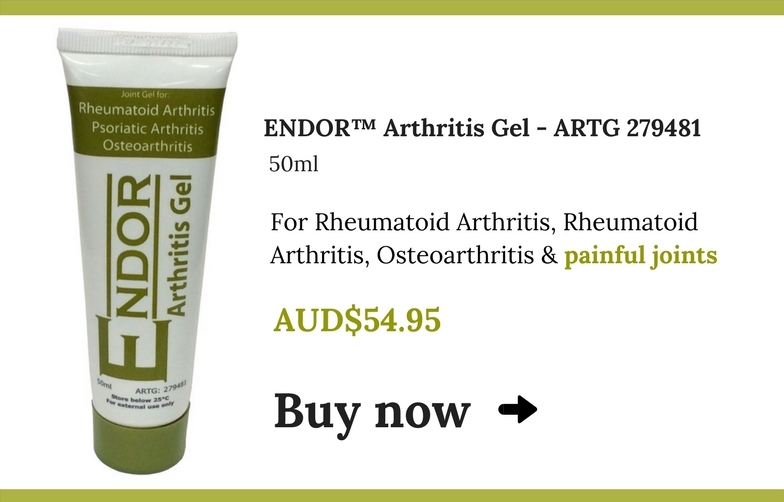 ENDOR™ Arthritis Gel contains naturally sourced ingredients, does not contain steroids or any analgesic drugs (painkillers) and does not have any known side effects.
ENDOR™ Arthritis Gel contains the precursors to the ENDOR™ active compound, which the person's own immune system can produce. This will in turn calm the overactive immune response. It also contains other natural anti-inflammatory and lubricating compounds, calming the inflammation where applied. The combination of these ingredients provide a gentle warming of the area, helping to lubricate the joints, reduce swelling and the pain associated with rheumatoid arthritis, psoriatic arthritis, osteoarthritis and other muscular and painful joints. For more information, please click here.
In our blog you can find the list of FAQ about ENDOR™ Arthritis Gel. Please click here to read it.
When using ENDOR™ products, do not use any other medication, which might dampen your immune response, such as steroidal-based medications or other products, that have similar effects. ENDOR™ products work by providing the basic ingredients to your immune system, so that your body makes the active compound; that is the natural anti-inflammatory compound, to calm the over active immune response. If your immune response is being dampened, then your immune system will not be able to make this active compound and it will not work.

Apply ENDOR™ Arthritis Gel on the affected joints and gently rub in. You should feel a reduction in pain and easier mobility after a short space of time. Use as often as necessary. Over time you will need to use less of the arthritis gel to see a reduction in joint swelling.

Aqua, Polyacrylamide, C13-14 Isoparaffin, Laureth – 7, Triticum Vulgare, Wheat Germ Oil, Glycerin, Sodium Citrate, Menthol, Dimethicone, Eucalyptus Globulus, Panthenol, Emu Oil, Phenoxyethanol, Benzoic acid, Dehydroacetic acid.
If you are using steroidal products either orally or topically, this will reduce the effectiveness of ENDOR™ products.
ENDOR™ products do not contain steroids, antibiotics, biologics, allergens or painkillers.
For more information, please feel free to contact us.